Ballroom Elegance Dance Studio of Westport, CT offers best quality ballroom dance lessons, group dance classes and social dance parties
for people of any age, singles or couples, who love to dance and would like to learn Ballroom Dancing.
Our professional ballroom dance instructors will help you to become confident and good looking dancer, feel great at any social dance event and to enjoy Ballroom Dancing as a great hobby and fun social activity.
In our dance school you will enjoy warm and friendly environment and excellent service. We want you to feel comfortable, happy and
get the best results learning Ballroom Dancing at Ballroom Elegance Dance Studio of Westport, CT – your best choice of the dance school!
Call or Text: 203-454-9400 to Schedule Your First Dance Lesson
SWING, SALSA, FOXTROT, WALTZ, CHA-CHA-CHA, SAMBA, TANGO, QUICKSTEP, VIENNESE WALTZ,
MERENGUE, BACHATA, WEST COAST SWING, BOLERO, TWO STEP, ARGENTINE TANGO, HUSTLE and more…
We would recommend starting with Introductory Private Dance Lesson.
At this lesson you will be introduced to dance of your choice or one or two most popular dances and learn a few basic steps, dance hold, leading etc. After that, you can continue with any of our small dance lessons packages in order to build your ballroom dance skills and achieve your goals.
Reviews from our customers
Ballroom Elegance Dance Studio of Westport, CT
Whatever your goals are in dancing, this is the studio where you can … and will … achieve them, learning from the most extraordinary teachers, and surrounded by the warm friendship and support of your fellow students. Whether your interest is the fun and romance of social dancing, the artistic expression of a showcase dance performance, or the thrill of competitive dance sport, this is a great place to learn and enjoy any aspect of ballroom dance.
Happy Customer


Doug Bailey, Westport, CT
We love dancing at this studio. The way we are taught is simple and fun. We laugh all the time. After each lesson we are inspired. It has brought us closer as a couple and we look forward to a date night every Wednesday. And then, we get to practice at parties and meet other couples enjoying the same. Can't more highly recommend this experience
Happy Customer


Sue Baxter, Ridgetfield, CT
Irina and Vladimir are world class dancers and amazing instructors for students at all levels. We have been taking lessons from them and other members of their team for three years. We have never had so much fun dancing. Their other students are wonderful, very supportive people The social events they plan and sponsor are terrific. Ballroom Elegance is the perfect studio for dancers of all ages at all levels.
Happy Customer


Donald Walkovik, Fairfield, CT
Fabulous instructors. Great students. Friendly atmosphere. I danced at this studio since 2002 and LOVED every minute of it. I moved in 2015 and still make sure that I schedule a lesson and make time to visit every time I return to CT.

They teach at your pace and not hold you to a fixed schedule. They make dancing fun and truly care about each person.
I would give this a 10 star rating if I could.
Happy Customer


Pegi Brandt, Westport, CT
What a wonderful place to learn to dance at any level!
Happy Customer


David Geronemus, Westport, CT
We are hooked for life. My husband and I have been taking salsa lessons at this studio for 4 months. It is incredibly fun, great exercise and extremely enjoyable for all levels. Irina is an amazing instructor for all style of dance.

I highly recommend this studio
Happy Customer


Patricia Barrington, Weston, CT
My husband and I started taking lessons here about ten years ago. We've gone from barely doing a box step to performing at the studio's Spring and Fall Balls. We've been surprised by how much fun it is and how many nice people we've met. The teachers are talented, professional and very wonderful people. The supportive atmosphere, from the teachers as well as the other students makes this a very special place. The dancing is fun and it is great exercise!
Happy Customer


Mitzi Lyman, Westport, CT
What an excellent dancing school catering to all levels from beginner to very accomplished dancers. Irina is an amazing dancer and teacher. She is patient with her students and takes real joy in their progress.
Happy Customer


Donna Sedgwick, Westport, CT
ABOUT US
Great Service for great Results
As teachers and owners of Ballroom Elegance Dance Studio we are committed to providing the absolute best teaching quality to each and every one of our students.
Over the last 22 years, since opening our own studio in Westport, Connecticut in 2001, we've been staying true to our original mission — to give you, the student, a winning service that you can rely on.
We are proud to have long time happy customers, who enjoy ballroom dancing as a great hobby and an art.
Welcome,
Vladimir and Irina Gorshkov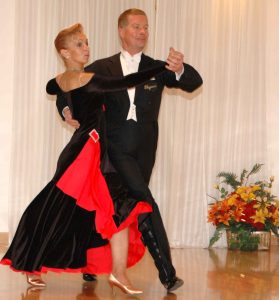 Location
Ballroom Elegance Dance Studio
877 Post Road East
Westport, CT 06880
Hours
Monday……… 2:00 pm to 9:00 pm
Tuesday……… 2:00 pm to 9:00 pm
Wednesday…. 2:00 pm to 9:00 pm
Thursday…….. 2:00 pm to 9:00 pm
Friday………….. 2:00 pm to 9:00 pm
Saturday……….9:00 am to 6:00 pm
Sunday………… 9:30 am to 4:00 pm