ballroom elegance dance studio, westport CT
At our dance school, Ballroom Elegance Dance Studio of Westport CT, we offer Wedding Private Dance Lessons to prepare
you for one of the most magical moments at your Wedding – beautiful First Dance.
You will look elegant, graceful and confident on the dance floor at your Wedding reception.
have a great time learning to dance together at ballroom elegance dance studio of westport!
We have many years of experience to prepare our clients for their Wedding First Dance. Our Ballroom Dance Instructors will make the
learning process fun and enjoyable for you using our special teaching method, which will help you to accomplish
your First Dance preparation in shortest possible time with the best results.
HOW MANY DANCE LESSONS WILL WE NEED?
It depends upon your abilities, goals and your schedule.
If you only want to have a few basic steps and feel comfortable dancing them, we could accomplish this goal just in a couple of lessons.
If you would like to have a special choreography to your song, wow your guests and family at your wedding reception, then package of 6-10 private dance lessons will give you a plenty of time to learn and practice your dance.
WHAT WILL we LEARN?
At Ballroom Elegance Dance Studio of Westport we will teach
How to start your dance
Improvise dance steps to your song
Perform choreographed dance
Make the Dip for a final photo
private dance lessons for parents
Father and Daughter Dance Lessons
Mother and Son Dance Lessons
Wedding Parents' Dance Lessons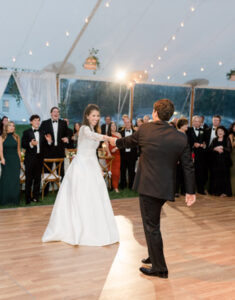 Happy Customer
Irina at Ballroom Elegance Dance Studio is a wonderful teacher that taught two people with no background in dance how to have the most spectacular

first dance

experience. She walked us through all of the steps seamlessly and encouraged us when we felt nervous. She made is a seamless experience. We highly recommend Ballroom Elegance Dance Studio for anyone looking to learn at all levels!

Brandon Pacilio, Westport, CT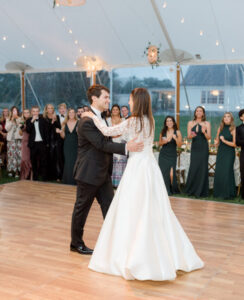 Most of our students have never danced before. At our dance school we like to start from the blank page and finish
after a few lessons with a beautiful dance story to celebrate your love and surprise your guests and friends.
THE BEST WAY TO START
Schedule an Introductory Private Dance Lesson to meet with your ballroom dance instructor
and tell us your vision of the First Dance.
Start your Wedding First Dance Preparation Today!
Call: 203-454-9400
Ballroom elegance dance studio of westport, CT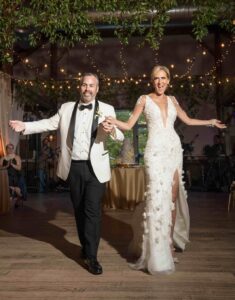 Happy Customer
My husband and I got married in Vermont in October 2021. We took dance lessons from Vladimir and Irina at Ballroom Elegance in Westport, CT. BEST DECISION EVER!!! Vladimir choreographed our first dance, which was to Elton John's "Bennie and the Jets"…so clearly a very difficult dance to ballroom dance to! But Vladimir made it perfect! We still get comments on how great our first dance as a married couple was and we have Ballroom Elegance Dance Studio to thank for that!! It was also super fun and something that we are sure to continue!!! We highly recommend this studio and this experience..it is very bonding for us as a couple!!

Heather Galano, Fairfield, CT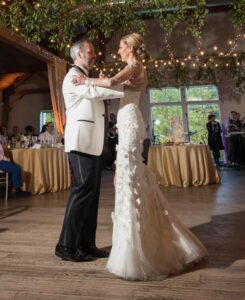 beautiful wedding first dance
INTROductory private dance lesson
MUSIC
If you decided already what song you will use, please, send us the link with your song before the Introductory Private Dance Lesson.
It will allow us to get prepared and start teaching dance steps most suitable to the rhythm of the selected music right away and save your time.
WEDDING PRIVATE DANCE LESSONS
After the Introductory Private Dance Lesson, according your learning abilities and time before the wedding,
we will be able to recommend a private dance lessons package suitable for you.
LESSONS PACKAGES
You could continue with single private dance lesson (pay as you go) or with any of discounted wedding private dance lessons packages.
In our dance school we offer 4, 6 and 10 wedding private lessons packages to choose from.
Start your Wedding First Dance Preparation Today!
Call: 203-454-9400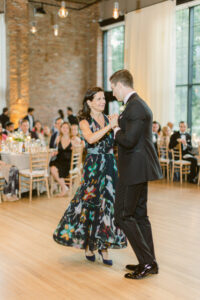 Happy Customer
My husband and I have been happily taking lessons at Ballroom Elegance for over 10 years. When it came time for our son's wedding last July, we knew we were in good hands! Irina helped us all prepare for those "special" dances (couple's

first dance

, mother/son) which turned out wonderful. Irina is a talented and patient instructor who makes learning to dance stress-free and fun!

Juliana Delaney, Westport, CT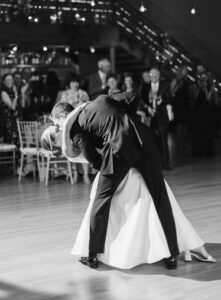 We had a very short engagement and really wanted to prepare a special "first dance" for our wedding. We selected a song and within 2 private lessons, Irena choreographed our entire wedding dance, taught us how to waltz, and helped us to memorize our dance. She worked with each of us to make sure that the dance fit moves that we were comfortable with and the venue, which was actually a grass field. We loved working with Irena so much that we've booked a few private lessons in addition to group classes. Ballroom Elegance is now our go-to place when we want to have a special date night or learn some new moves, and we plan on returning back for many years to come. We are very appreciative of Irena's flexibility, knowledge, skills as a teacher and dancer and commitment to her students. We highly recommend Ballroom Elegance!
Happy Customer

Matthew Harris, Wilton, CT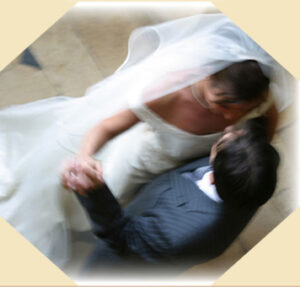 just a few days before the wedding?
NO PROBLEM! WE WILL HELP YOU!
In just one or two lessons we'll get you ready for your
Wedding First Dance.
We will teach you some basic dance moves and show how to look good on the dance floor with a simple last minute routine.
Call us TODAY: 203-454-9400
Let's schedule an Introductory Private Dance Lesson and talk about your dream Wedding First Dance.
We had a wonderful experience at Ballroom Elegance! My husband and I took classes to prepare for the first dance at our wedding. Irina can make a dream come true! She managed to teach two absolutely clueless people to dance waltz. She choreographed a beautiful
dance for us! All of our guests were so impressed and we will remember it for a lifetime!
Happy Customer

Maria Colta, Norwalk, CT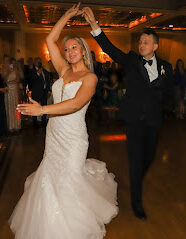 wedding first dance choreography
If you want to have a specially choreographed and unique dance routine for your song, we would be happy to do it for you. Together we will create the dance of your dreams for your special day that will simply wow your guests. Give yourself enough time to work on your First Dance in order to feel confident and fully prepaired.
Here is an additional one time charge for choreography.
schedule your introductory private dance lesson

CALL: 203-454-9400
start your wedding first dance
preparation today!
Take your first step to look and feel your best on the dance floor in front of family and friends
Introductory Private dance lesson
$120 / Price is per couple. Lesson is 45 min long.
Packages Prices are per couple. Lessons are 45 min long.
Just got engaged?
CONGRATULATIONS!
Give a Gift of Dance!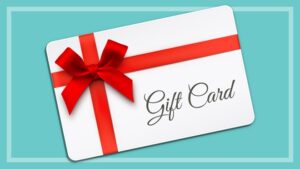 e-GIFT CARDS
Digital e-GIFT CARDS of Ballroom Private Dance Lessons
sent via email is a great way to deliver your gift
directly to your sweetheart mailing box!
Have a Great Time Dancing!
Location
Ballroom Elegance Dance Studio
877 Post Road East
Westport, CT 06880
Contact US
Please, call or text:
203-454-9400